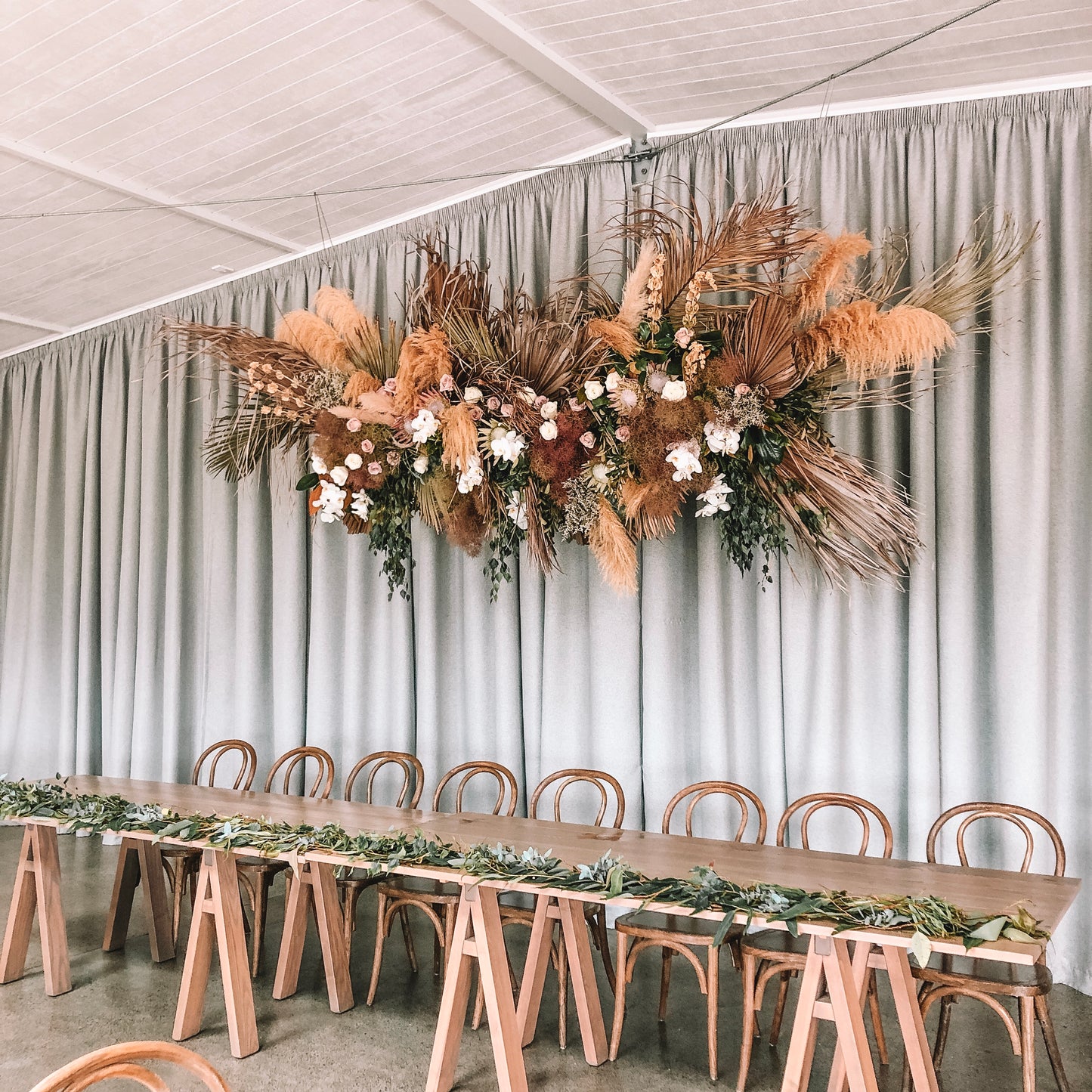 Petal & Leaf
Email: Info@petalandleaf.co.nz
Instagram: @petalandleaf_
Website: www.petalandleaf.co.nz
A lovely East Auckland local gal that we have had the chance to lunch and chat with. Sophie's boho floristry style in both her fresh and dried arrangements are simply stunning and will add warmth and personality to your wedding venue. 
Please tell us a bit about you and how you started your amazing business.
My names Sophie and I'm 23 and the proud owner of Petal and leaf an online florist shop that also specialises in weddings and events. Petal and leaf grew from a simple passion of mine. I always loved having fresh flowers in my house and I never really knew what Career path I wanted to take. I created my Instagram page to share my creative flair of bouquets and dried creations I was making, which quickly turned into the business that I have today. Two years on and I'm still so in love with the business that I've created, although I have decided to turn all my love and attention to being just a wedding and events florist. We create some beautiful creations for our bride and grooms over the past couple of years and it's been so amazing meeting and creating friendships with everyone I've met along the way. Going into the 2020/2021 season, times have certainly changed but I can't wait to work alongside the amazing wedding vendors to bring together the most beautiful weddings of the season.
What wedding services do you offer?
Petal and Leaf offer a huge range of wedding flowers from simply just bridal bouquets to full wedding florals with hanging installations and archway features. I love to be able to cater to all sorts of budgets so offer a wide range.
Describe your style and aesthetics in 3 words.
Beautifully wild & bohemian.
Where are you based and are you available nationwide?
I am based in Rural East Auckland in the peaceful suburb of Whitford. I travel Auckland wide and also travel as far as the Matakana up North and the Coromandel and beautiful Bay of Plenty.
Advice for couples when choosing wedding vendors to work with?
My biggest piece of advice for couples planning their wedding day would be if you have certain vendors that you would love to work with, get in touch with them as soon as you've set your date. Wedding vendors are becoming booked out at least two years in advance so you don't want to be left disappointed if you leave things too late. Also make sure you pick vendors who are best suited to the theme & style of your wedding.
What is your most commonly asked question from wedding couples?
My most asked question would have to be How do you get everything done in such a short time frame? My answer - "Magic" and..... an amazing team of florists and friends to help bring everything together on the wedding day so you don't have to worry about a thing.
How can couples get started on setting priorities and budgets for their wedding day?
The best thing would be to sit down and work out your budget for your wedding and what you both are willing to spend. Sort into categories and allow spendings for each category and try not to go over budget. Discuss how much you are wanting to spend for each vendor and then with your chosen vendors discuss what your options are and what you can achieve within your budget. Being open and transparent about your budget with your vendors will make your planning so much easier and take the pressure off the constant fear of going over budget.
Tips for how a wedding couple can inject their personalities into their big day?
Just be yourselves when meeting with your wedding vendors. If you have your heart set on certain things that may not be " Traditional" make sure you don't let anyone tell you otherwise. It's your big day and no one else's opinion should change that. Have that funky song walking down the aisle and don't have a sit-down wedding meal if you don't want to. This day is all about the both of you and it's the wedding day you've most probably dreamt about your whole life so make sure you enjoy every minute of it.
What is your favourite part of your job and being in the New Zealand wedding industry?
Mine would have to be meeting all the amazing couples I've meet along the way. I've created some beautiful friendships while planing their dream wedding florals. It's an epic feeling seeing all the planning and discussing come to life on the big day. It's the best and most favourite part of my job hands down.
Your favourite wedding trend at the moment?
I was very unsure of it at the start but now I love seeing all the "first look" videos and photos captured of the brides and grooms seeing each other for the first time. The photos and memories captured by the talented wedding photographers are beyond heartwarming and moments they will cherish forever.
Best wedding song to kickstart the dance floor? 
Sweet Caroline! Without a doubt that will get everyone up on their feet.
When you are not working, you are.......?
When I'm not working I'm usually spending time with my partner Matt and our fur baby Layla, she's full of beans (24/7) so we are usually out walking her around the farm at home or at our local beach and if it's not time spent with Layla, we'll be hanging out with our sweet little nephews and our families.
Final words of advice?
A little side note for future Bride and Grooms reading this. Your wedding day will be filled with so much love and emotion, Make sure you both take the time to step aside from your guests together and take a moment to take it all in. Cherish every moment of laughter and emotion because it will flash by before you even know it. xx